Management Committee- Governing Body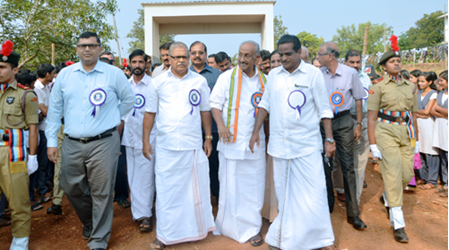 Sreekandapuram Educational Society(S.E.S.) was started in the year 1976 under the visionary leadership of Mr.K.M. Varghese, and registered in the same year under Societies Act(Reg. No 285/76). The society envisaged to cater to the academic aspirations of the people in the nearby Panchayaths. The institution had a humble beginning as a junior college affiliated to Calicut University, offering pre-degree courses.
Our Founders
Society membership pattern
The society members are divided into four classes (Class A to Class D).
| Class | Description |
| --- | --- |
| Class A | Class A contains three (3) permanent members. These three members constitute the Executive committee. They meet every month to monitor the activities of the Society. |
| Class B | Class B contains 21 members. These members are known as permanent Director Board members. The class B members meet every three months and monitor the activities of the society. |
| Class C | Class C contains 22 members. These members are known as permanent Governing Council members. The class c members meet every six months to discuss various matters of the society. |
| Class D | The class D contains 214 members. These members are known as ordinary members. The class D members meet every year to discuss various matters and to elect executive committee members. |
Apart from regular meetings, all four class members (General Body) meet every year.
Executive Committee
The Executive Committee of the society constitutes nine members. Executive Committee members are elected by General Body in every three years. The Executive Committee meets every month and is responsible for taking various decisions. The committee members are elected from the classes with the member distribution mentioned below:
| Class | Members |
| --- | --- |
| Class A | 3 |
| Class B | 2 |
| Class C | 1 |
| Class D | 3 |
Managing Committee
The managing committee contains ten members (all executive committee members and the college principal- as the ex-officio member). The managing committee monitors each and every activity of the society, especially of the College on a daily basis.
Succession of Managers
| Year | Manager |
| --- | --- |
| 1976 - 2000 | Mr.K.M.Varghese |
| 2000 - 2002 | Prof. A.O. Thomas |
| 2002 - | Mr. Vinil Varghese |
Management Committee Members
Position
Member
President
Sri. Vinil Varghese
Vice President
Sri. John Kallat
Sri. K. J. Thomas
Secretary
Prof. V.D. Joseph
Joint Secretary
Sri. K. K. Chandran Nambiar
Dr. Manu Joseph
Treasurer
K.T. Ibrahimkutty Haji
Members
Dr. Maisy Oommen
Adv. Muhammed Anas. M.P.
Ex-Officio Member
Dr. Dominic Thomas